Saint John Vianney Panel #14549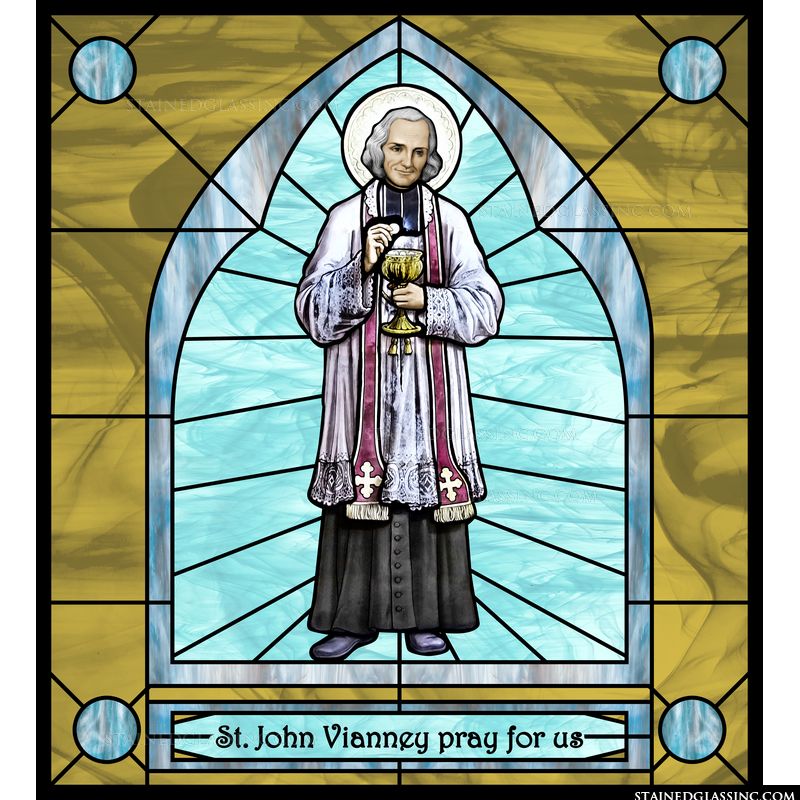 St John Vienny (Jean Vienny in French). Lovely stained-glass window of St John Vianney. He was born in 1786 as Jean Baptiste Marie Vianney. He became a priest. St John Vienny is venerated as patron saint of parish priests. Also referred to as the "Curé d'Ars" (the parish priest of Ars). His feast day is August 4.
Your sacred space adorned with the luminous presence of St. John Vianney, depicted in our Stained Glass masterpiece. This portrayal serves as a powerful tribute to his unwavering faith, dedication to pastoral care, and profound impact on the priesthood, creating an inspiring and spiritually enriching focal point within your church.
Your Trusted Advisor in Sacred Artistry
Customized Devotion: We understand the profound significance of St. John Vianney's life and ministry. Our commitment is to tailor this St. John Vianney Stained Glass to any window, regardless of size or shape, ensuring it seamlessly integrates with your church's architectural identity.
Pastoral Inspiration: This depiction of St. John Vianney embodies his pastoral dedication, love for the Eucharist, and transformative impact on the lives of countless faithful. Our lead-free, nearly unbreakable panels ensure the longevity of this inspiring figure within your sacred space.
We provide full-color proofs for your approval, allowing you to witness firsthand the inspiring beauty that will grace your church.
Commence this transformative journey with us today. Contact us to discuss your unique needs, and envision how our St. John Vianney Stained Glass will inspire devotion, reflection, and a deeper connection to pastoral care within your congregation.

Order Any Shape