---
Transform your entryway with a fabulous stained glass front door from Stained Glass Inc.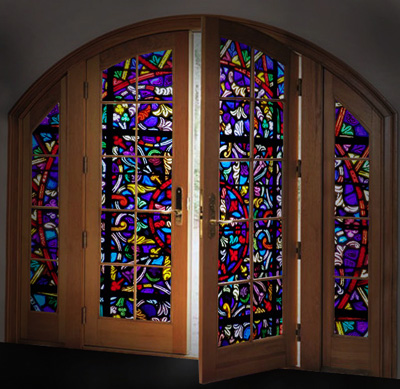 Panel # 2727
Stained Glass Doors from Stained Glass Inc.
Nothing makes a stronger, more beautiful first impression than custom stained glass entry doors. Stained Glass Inc. specializes in custom stained glass doors, and we offer a range of options to meet every style and price point.
Our stained glass panels can be inserted directly behind an existing door window saving construction time and costs. Or, Stained Glass Inc. can build a new, custom door with stained glass that fits your specifications and design choices. We specialize in standard and made-to-order stained glass door panels in any size or shape you desire. We also specialize in stained glass interior doors for your home, church or office.
Need help with design? Our team of design specialists will help you choose a stained glass door design that is perfect for your home, church, chapel or cathedral. Our consultants are here to help guide you through our designs and can assist you in choosing the perfect image for your door. We will also answer any technical questions you may have.Our online design catalog features hundreds of stunning images with designs that are sure to please. Our artwork features reproductions of stained glass art by Tiffany and Frank Lloyd Wright. Though our collection covers many styles we also offer complete customization. All designs can be altered to your choice of colors, sizes, shapes and frames. Plus, if you have something different in mind, we will custom design your unique idea especially for you.
Browse our online catalogue for a huge selection of stained glass designs and motifs, but don't limit yourself solely to what's in the catalogue. All of our designs can be customized. What's more, our designers will work one-on-one with you using your measurements and color preferences to create the perfect custom door stained glass just for you.
We provide our clients with design consultations and your initial quote is free. We invite you to transform your entryway with a timeless stained glass front door from Stained Glass Inc., and experience excellence in artistry and craftsmanship you will enjoy for years to come.
Though our stained glass door designs are uniquely beautiful, our product is also highly durable and strong. Our inserts are made from polymer glass, the same material that makes up jet windows, and are up to 80 times stronger than regular glass and virtually unbreakable. Fade resistant mineral pigments are heat infused into windows ensuring that colors stay bright.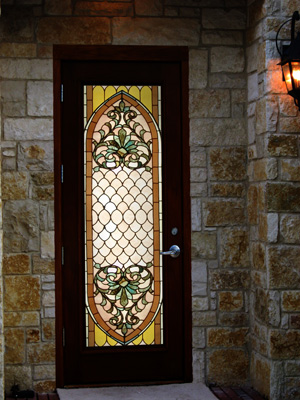 Why else should you choose Stained Glass Inc. for front doors with stained glass? Installation is quick and easy, meaning you'll spend less time and money. In fact, our stained glass for doors can easily be installed without fully replacing your front door and most can be installed by you. Door inserts are custom made to your shape and size specifications so they fit perfectly into your door. Low maintenance inserts need nothing more than routine cleaning to keep them shining brightly. Cleaning is easily done with a soft cloth and glass cleaner because inserts are free of lead with "lead lines" running flush with the glass surface.
We offer stained glass doors for sale that are cost-effective and efficient. Not only are stained glass door inserts sold at studio direct pricing, they also save on construction costs and utilities. Easy installation means that you don't have to pay someone else to install our inserts and there is no construction required. Door inserts also offer extra insulation, saving on cooling and heating costs.
The supplies we use to produce the stained glass for your door are the same first-class materials our artists have used to create art for some of the finest resorts, museums, cathedrals and hotels in the world.
Benefits of Stained Glass Inc. Front Doors
Largest design collection in the world.
Size, shape and color are completely customized.
Excellent track record with numerous successful projects.
Easily add beauty and color to existing doors.
Adds allure to your home , office or church.
80x stronger than traditional glass.
Energy efficient stained glass door panels reduce drafts, add insulation, and save you money.
Free of harmful lead.
Color is produced by heat infused mineral pigments that last.
American made and shipped straight from our studio.
Contact Us Today!
Have you always dreamed of doors stained glass? How do you envision your front door? Send us a photo, sketch, or idea and let us create some magic in stained glass together. Give us a call today.