---
If you are looking to add beauty and warmth to your hospital chapel, consider Stained Glass Inc.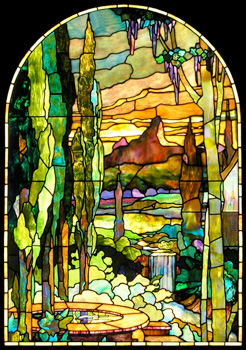 Panel # 2127
Stained Glass for Hospital Chapels
Help bring comfort to your chapel's visitors by utilizing Stained Glass Inc.'s custom stained glass designs. The warm, rich colors and unique lighting associated with stained glass can serve as a way to help relieve anxiety of nervous friends and family members who have a loved one in the hospital, or even apprehensive patients. In addition, beautiful stained glass panels can provide joyous and inspiring images of faith.
Incorporate custom stained glass designs in the entry of your chapel with a stained glass door or side panels, or put traditional stained glass window inserts inside. Our single window inserts have the ability to be completely customized to fit your exact needs. Each of these windows will provide color, comfort and contour in easy care stained glass.
No windows? No problem. Take advantage of Stained Glass Inc.'s internally-lit designs, or "windowless windows", and receive all of the benefits of naturally lit stained glass without the need of sunlight. Browse our wide selections of both religious and non-religious designs to choose what would best fit your hospital chapel, or create something entirely new. Our designers will gladly work with you to design exactly what you want.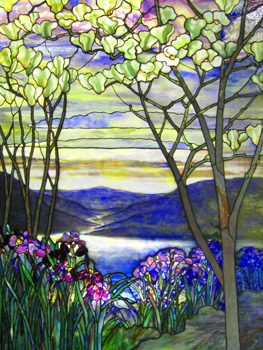 Panel # 2906
Benefits of Stained Glass in Hospital Chapels
Aids in providing comfort and relieving anxiety
Easy to care for and maintain
Interior illumination available
Adds beautiful color to an otherwise drab chapel
Affordable
The Next Step
Contact us today to get started. We are with you every step of the way.