Stained glass window of St. Pedro Calungsod Panel #14553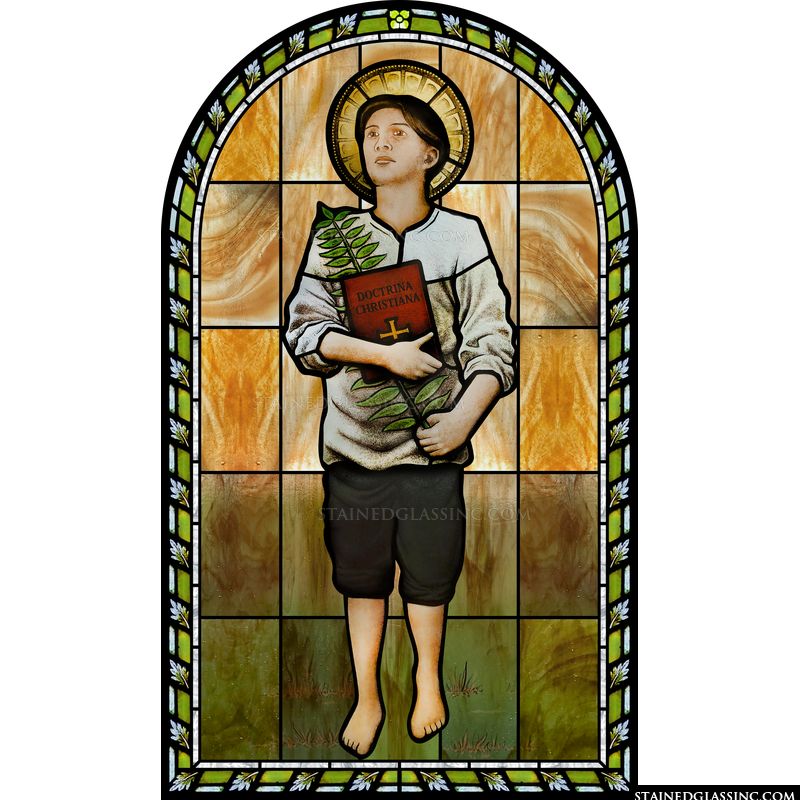 Stained glass window of St. Pedro Calungsod.
Born in the Philippines. In 1668, the young Pedro Calungsod, traveled with Spanish Jesuit missionaries to the Islas de los Ladrones ("Isles of Thieves") now known as the Marianas Islands. Calungsod then traveled with the priest Diego San Vitores to Guam. There he was martyred. Pope Benedict canonized Pedro Calungsod October 21, 2012. Calungsod is the second Filipino to be declared saint by the Roman Catholic Church.


Elevate Your Church with the Inspiring Presence of St. Pedro Calungsod in Stained Glass:
Imagine your sacred space adorned with the radiant presence of St. Pedro Calungsod, depicted in our Stained Glass masterpiece. This portrayal serves as a powerful tribute to his unwavering faith, courage, and dedication, creating an inspiring and spiritually enriching focal point within your church.
Customized Devotion: We understand the profound significance of St. Pedro Calungsod's life and martyrdom. Our commitment is to tailor this St. Pedro Calungsod Stained Glass to any window, regardless of size or shape, ensuring it seamlessly integrates with your church's architectural identity.
Spiritual Inspiration: This depiction of St. Pedro Calungsod embodies his unwavering faith and courage in spreading the Christian faith. Our lead-free, nearly unbreakable panels ensure the longevity of this inspiring figure within your sacred space.
Visual Clarity: Precision is paramount. We provide full-color proofs for your approval, allowing you to witness firsthand the inspiring beauty that will grace your church.
Commence this transformative journey with us today. Contact us to discuss your unique needs, and envision how our St. Pedro Calungsod Stained Glass will inspire devotion, reflection, and a profound connection to the Christian faith.

Order Any Shape