Solanus Casey Panel #14564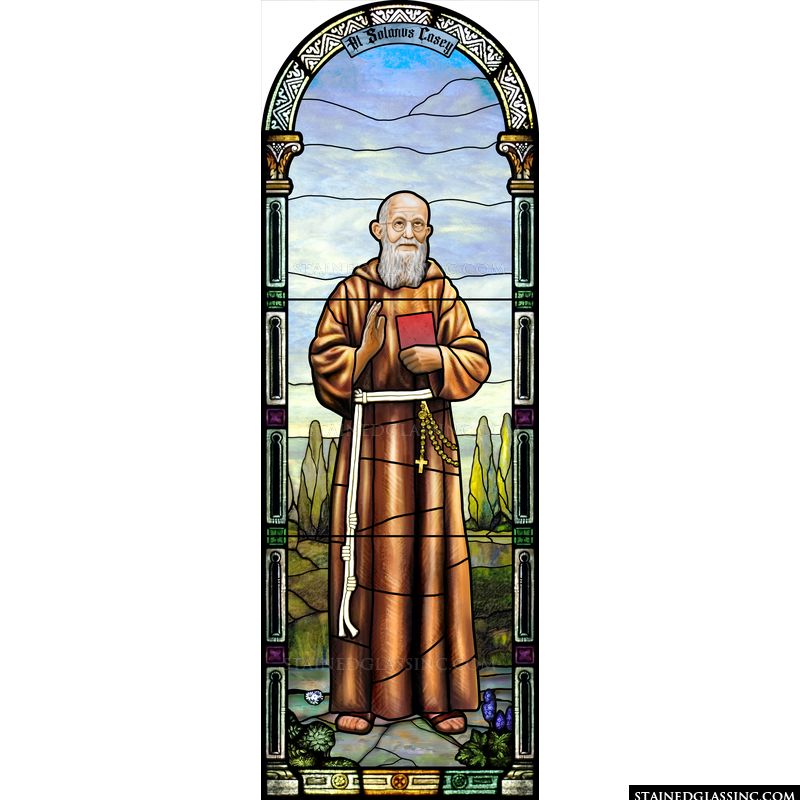 A stained glass depiction of Blessed Solanus Casey
Solanus Casey was born in 1870 as Bernard Francis Casey. Casey became a priest of the Catholic Church and was a member of the Order of Friars Minor Capuchin. He became known for his work with those who were ill as well as his great faith and abilities as a spiritual counselor. Friar Solanus Casey resided in Detroit where he came to be revered. He was also a noted for his love of the violin. Saint Solanus Casey was canonized by Pope Francis in 2017.


Solanus Casey was a Catholic priest and a member of the Capuchin Franciscan Order who lived in the United States during the 20th century. He is known for his deep faith, humility, and his dedication to serving the poor and the sick. Many people consider him to be a model of Christian charity and a great example of how to live a life of service and devotion.
The stained glass window of Solanus Casey is a fitting tribute to his life and legacy. Stained glass windows are a traditional form of religious art that have been used in churches for centuries. They are often used to depict scenes from the Bible, as well as saints and other important figures from Christian history.
The Solanus Casey stained glass window is used to depict him in his traditional Capuchin Franciscan habit, with his humble and gentle demeanor. It includes a Bible (he was a devout priest who spent many hours in prayer).
The stained glass window of Solanus Casey can serve as a reminder of the importance of serving others and of living a life of deep faith and devotion. It may inspire parishioners to follow his example and to dedicate themselves to acts of charity and kindness. Additionally, it can provide a beautiful focal point for worship and reflection, adding to the overall beauty and ambiance of the church.

Imagine your sacred space adorned with the radiant presence of St. Solanus Casey, depicted in our Stained Glass masterpiece. This depiction serves as a powerful reminder of humility, compassion, and faith, creating an inspiring focal point within your church.



Order Any Shape