Decorated Egyptian Columns and Pyramids Panel #14576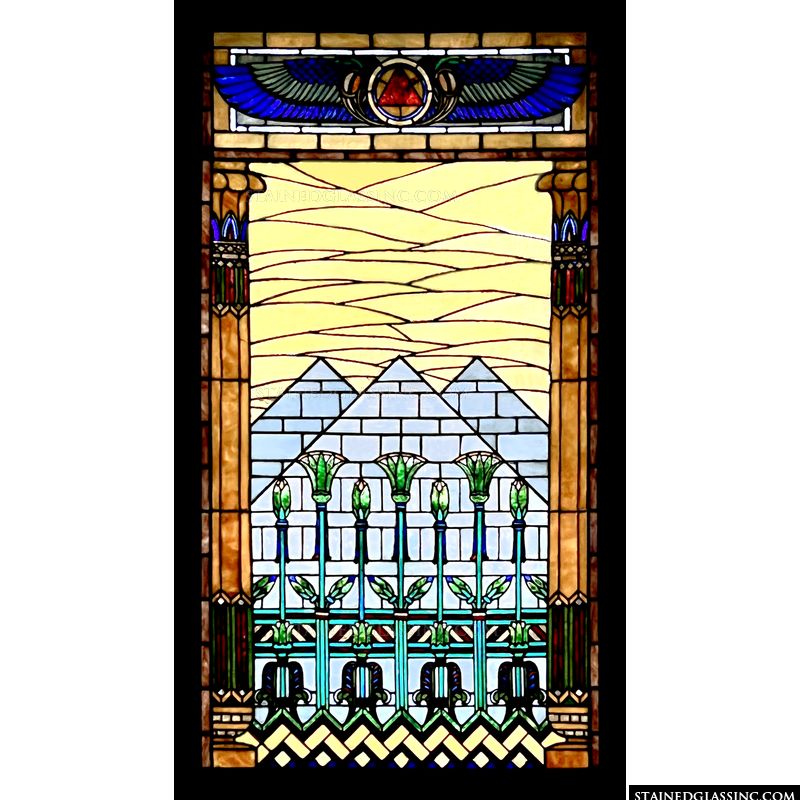 Transport your home to the mystique and grandeur of ancient Egypt with our Residential Stained Glass panels inspired by Egyptian themes. Whether you're working on new construction or enhancing your existing space, our stained glass panels offer a quick and hassle-free installation process.
What sets our stained glass panels apart is their unparalleled customizability. We can craft them to fit any window, door, or skylight, allowing you to recreate the timeless beauty of Egyptian art and culture right in your home.
Our team of talented artisans is eager to collaborate with you to design a window that captures the essence of Egypt's rich heritage while reflecting your unique vision. Beyond their aesthetic appeal, these panels are designed for practicality. They effectively block drafts, reduce heating and cooling requirements, and provide exceptional protection by blocking out 99.9% of harmful UV rays.
Safety and sustainability are our top priorities. Our stained glass panels are lead-free and virtually unbreakable, ensuring the well-being of your household.
Experience the magic of Egyptian artistry with our Residential Stained Glass panels, bringing the spirit of ancient Egypt into your living space. Our affordability makes this transformation within reach, and with full-color proofs for your approval, you'll have complete confidence in your choice. Elevate your home's allure with a touch of Egyptian mystique today!

Order Any Shape