St Bruno's vision of Mother Mary and Baby Jesus seated in Heaven Panel #15019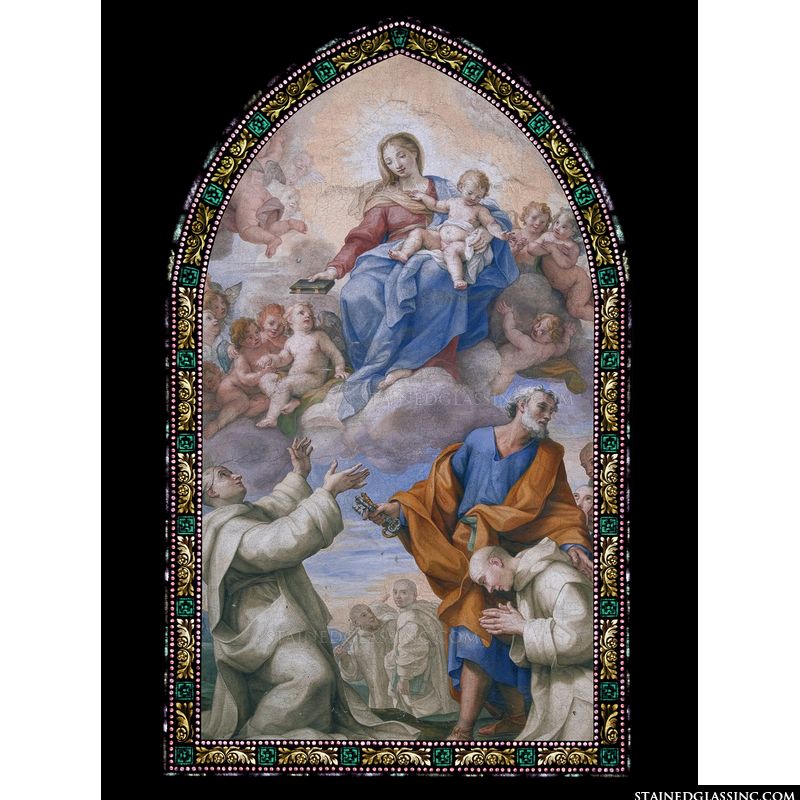 This awe-inspiring stained glass artwork portrays Mother Mary seated in celestial splendor, cradling the infant Jesus on her lap, encircled by cherubic companions. Beneath them, devout men and saints on Earth offer their prayers in a poignant display of divine connection.
Ideal for both new constructions and existing structures, our stained glass panels seamlessly integrate, infusing any space with a transcendent ambiance. With complete customizability in size and shape, they lend themselves to windows, hanging panels, doors, and even illuminated light boxes.
We take immense pride in our collaborative approach, ensuring that each window is a reflection of our client's unique vision. Personal dedications, verses, or names can be seamlessly incorporated, imbuing the artwork with special significance. Beyond their aesthetic appeal, our stained glass panels represent an accessible investment in the spiritual atmosphere of any setting.
Rest assured with our full-color proofs, granting you a clear preview of the final masterpiece. Practical benefits abound, including draft-blocking, reduced AC and heating needs, and protection against 99.9% of harmful UV rays. Lead-free and exceptionally durable, our panels guarantee safety and longevity.
Elevate your sacred space with this luminous masterpiece. Enquire today to bring the Heavenly Maternity of Mother Mary and Infant Jesus into your church or chapel.

Bible Verse: Luke 2:19 - "But Mary treasured up all these things and pondered them in her heart."

Order Any Shape