Jesus with Sacred Heart Panel #15034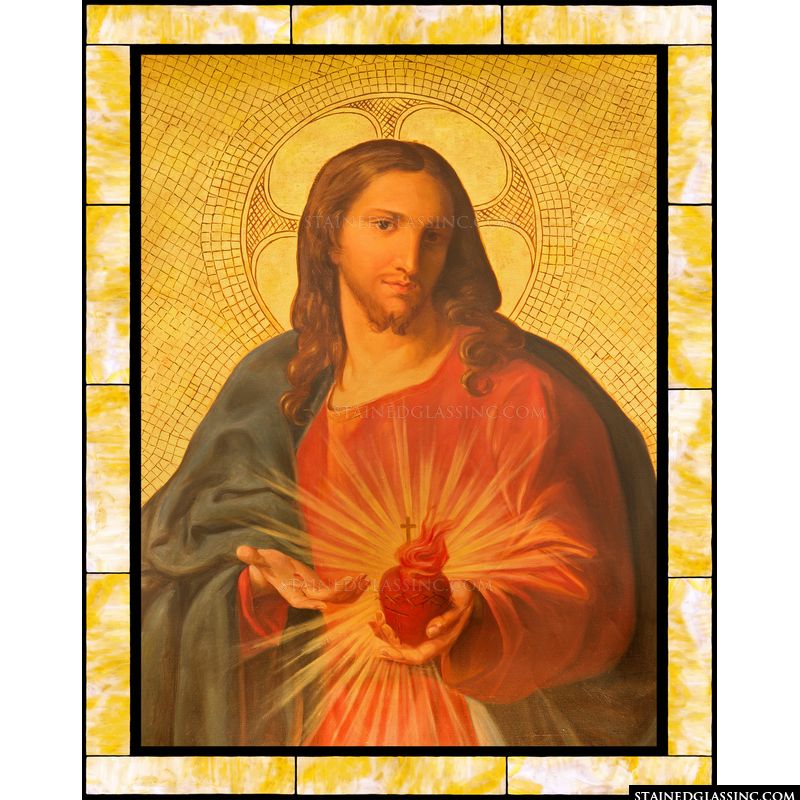 Immerse your congregation in the profound presence of Jesus with His Sacred Heart, a masterpiece of stained glass artistry that transcends mere depiction. This exquisite portrayal captures the compassionate gaze of the Savior, His heart ablaze with love and mercy for humanity. As the light filters through this sacred image, it infuses your worship space with a transcendent warmth, inviting worshippers to experience a deeper connection with the Divine.
Biblical Inspiration: "Come to me, all you who are weary and burdened, and I will give you rest." - Matthew 11:28
Enhancing Your Sacred Space: Whether for new construction or existing structures, our stained glass panels seamlessly integrate, tailored to complement any window size or shape.
Crafted to Your Vision: Customization knows no bounds with us. We're dedicated to manifesting your unique vision, be it a specific dedication, cherished verse, or a beloved name. Our panels are not only exquisite but also budget-friendly, ensuring stained glass splendor is accessible to all.
Affordable Splendor: Elevate your sacred space with affordable splendor. Our stained glass panels artfully combine budget-friendly options with captivating beauty, enabling you to embellish your church without financial constraints.
Inspiration and Comfort: Beyond aesthetics, our panels serve practical purposes. They block drafts, reduce AC and heating requirements, and effectively shield against 99.9% of harmful UV rays.
Safety and Longevity: Crafted to be lead-free and nearly unbreakable, our stained glass panels prioritize safety and longevity. The portrayal of Jesus' sacrifice will continue to inspire and uplift for generations to come.
Transform your place of worship into a profound spiritual experience for your congregation. Contact us today to welcome the Divine radiance of Jesus with His Sacred Heart into your sacred sanctuary.

Order Any Shape