The Divine Mother Panel #15057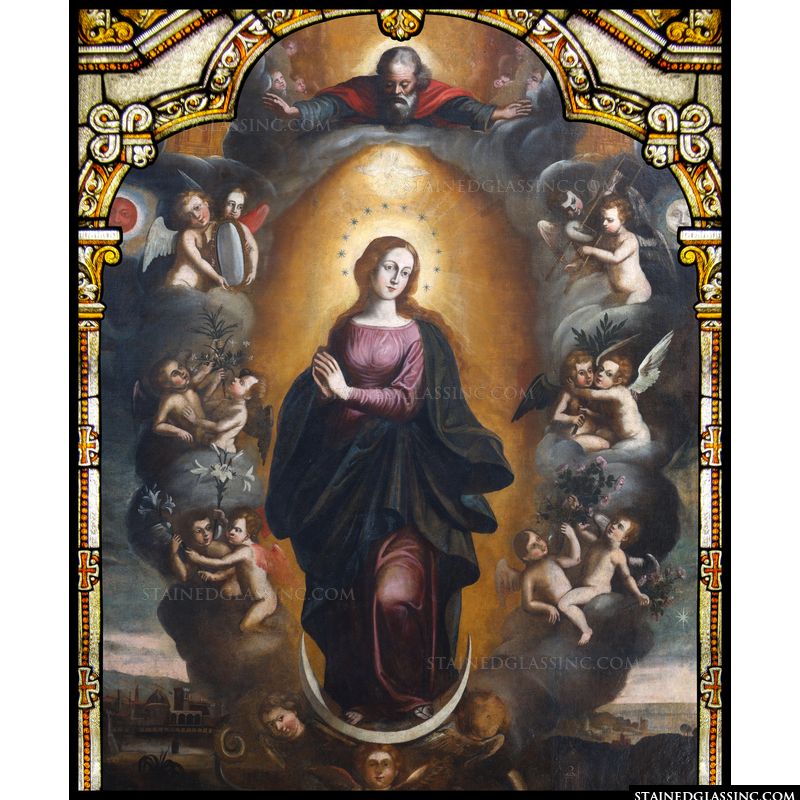 This is a classic representation of the Virgin Mary in Christian art, and each element has a symbolic meaning. Mary is often depicted surrounded by clouds and cherubs, which represent her position as Queen of Heaven and the angelic host attending to her. The flowers signify Mary's purity and innocence, and her role in bringing new life. The ladder symbolizes her role as the bridge between the divine and human, while the mirror represents her purity and the importance of self-reflection.
Enhancing Your Sacred Space: Whether for new construction or existing structures, our stained glass panels seamlessly integrate, tailored to complement any window size or shape.
Crafted to Your Vision: Customization knows no bounds with us. We're dedicated to manifesting your unique vision, be it a specific dedication, cherished verse, or a beloved name. Our panels are not only exquisite but also budget-friendly, ensuring stained glass splendor is accessible to all.
Affordable Splendor: Elevate your sacred space with affordable splendor. Our stained glass panels artfully combine budget-friendly options with captivating beauty, enabling you to embellish your church without financial constraints.
Inspiration and Comfort: Beyond aesthetics, our panels serve practical purposes. They block drafts, reduce AC and heating requirements, and effectively shield against 99.9% of harmful UV rays.
Safety and Longevity: Crafted to be lead-free and nearly unbreakable, our stained glass panels prioritize safety and longevity. The portrayal of Jesus' sacrifice will continue to inspire and uplift for generations to come.
The stunning portrayal of Mary in this image is a perfect embodiment of her significance in Christian theology. It would make an excellent addition to any home, office, or place of worship, adding a touch of grandeur to the surroundings.

Order Any Shape