He Took Her by the Hand and the maid Arose Panel #15321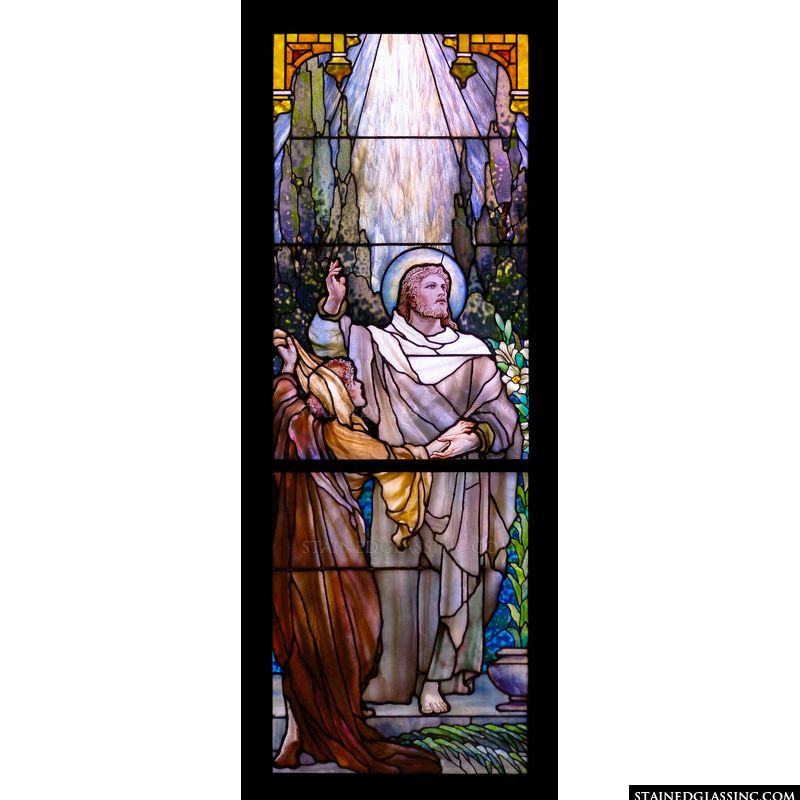 Beautiful colors and artwork grace this Louis C Tiffany stained glass masterpiece.
The church stained glass window "Took Her by the Hand and the Maid Arose" is based on a miraculous healing story recounted in the New Testament, in the Gospel of Mark, chapter 5, verses 21-43. A man named Jairus, who was a ruler of the synagogue, came to Jesus and pleaded with Him to come and heal his daughter, who was very sick and near death. Jesus agreed to go with Jairus to his home, but on the way, they were interrupted by a woman who had been suffering from a hemorrhage for 12 years. The woman reached out and touched Jesus' cloak, believing that it would heal her, and immediately her bleeding stopped. While Jesus was still speaking with the woman, messengers came from Jairus' house and told him that his daughter had died, and that there was no need for Jesus to come any further. Jesus told Jairus not to be afraid, but to believe, and continued on to Jairus' house. When they arrived, Jesus took the girl's hand and said to her, "Talitha koum," which means, "Little girl, I say to you, arise!" Immediately, the girl got up and began to walk. The significance of this story lies in its portrayal of Jesus as a powerful and compassionate healer, who was able to perform miracles and heal even the most dire of illnesses. It also demonstrates Jesus' ability to see beyond societal norms and to value each individual, regardless of their status or condition. Furthermore, the story also highlights the importance of faith and belief in God's power to heal and restore. Despite the fact that Jairus' daughter had already died, Jesus was able to bring her back to life because of Jairus' faith in Him. Overall, the story of "Took Her by the Hand and the Maid Arose" is a powerful example of God's ability to heal and restore, as well as the importance of faith and belief in God's power.

Order Any Shape