The Annunciation Window by Louis C Tiffany Panel #14747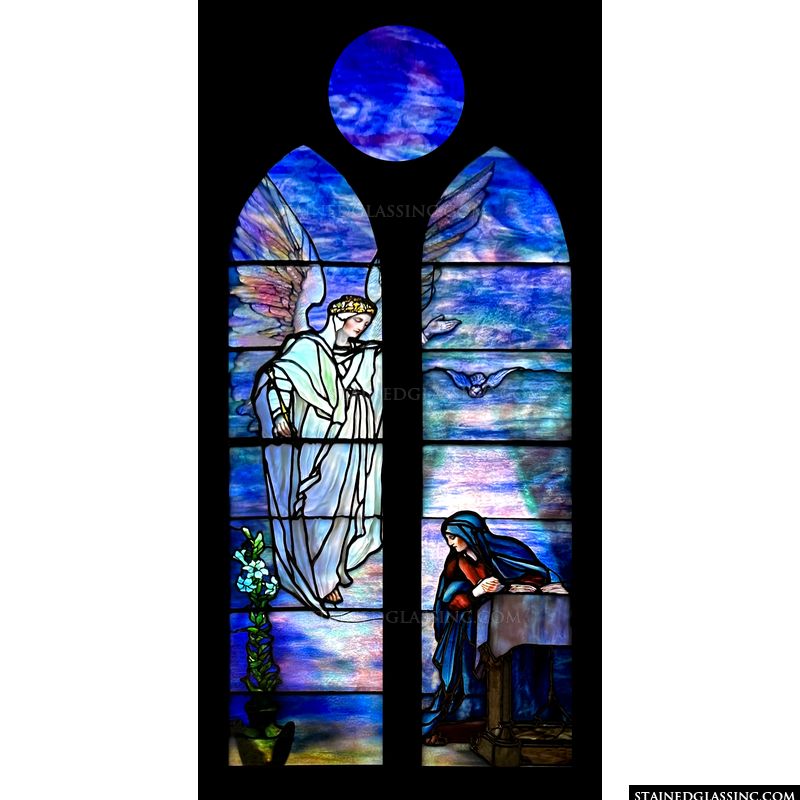 The Annunciation is a significant event in the Christian faith, which is why it is a popular subject for stained glass windows in churches. The Annunciation is the moment when the angel Gabriel appeared to the Virgin Mary and announced that she had been chosen to bear the Son of God. This event is recorded in the Gospel of Luke (Luke 1:26-38).
It illustrates a key moment in the life of Jesus: The Annunciation is an important moment in the life of Jesus, as it marks the beginning of his human life on earth. Depicting this event in stained glass helps to tell the story of Jesus' life and emphasize his divine origins.
It honors the Virgin Mary: The Annunciation is also an important event for the Virgin Mary, who played a crucial role in the Incarnation of Christ. The stained glass honors Mary's role in salvation history and highlights her humility and obedience to God.
The Annunciation involves the appearance of the angel Gabriel to Mary, highlighting the importance of angels in the Christian faith.
The stained glass window depicting the Annunciation is highly detailed and colorful, creating a visually stunning image that inspires awe and reverence in churchgoers. These windows can help to create a sacred atmosphere within the church and enhance the overall worship experience.

Available in the size and shape to fit your windows or as a hanging panel.

Order Any Shape