St. Thérèse of Lisieux Panel #15014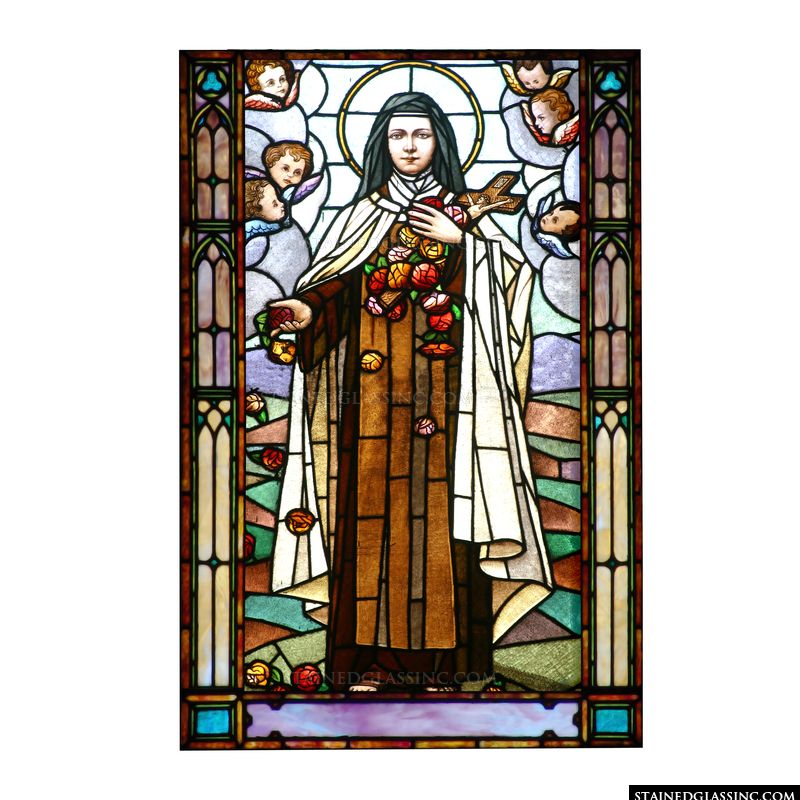 Embodying the essence of devotion and simplicity, our stained glass portrayal of St. Thérèse of Lisieux graces any sacred space with its ethereal beauty. This revered Carmelite nun is captured in a moment of prayer, radiating a profound spiritual connection. As she gazes heavenward, her 'Little Way' of love and devotion to God is palpable.
The artwork is a testament to St. Thérèse's unwavering faith, echoing her belief in finding holiness in everyday actions. For churches in need of new construction or existing enhancement, our stained glass panels offer a seamless installation process. Completely customizable in size and shape, they can grace windows, hanging panels, doors, and even illuminated light boxes.
We understand the importance of tailoring each design to meet unique needs. Our clients have the option to include dedications, verses, or names, creating a personalized touch. Our stained glass panels are not only a testament to faith but also an affordable investment in the spiritual ambiance of any church or chapel.
Benefiting from cutting-edge technology, our panels offer unparalleled benefits. They block drafts, significantly reduce AC and heating requirements, and safeguard against 99.9% of harmful UV rays. Committed to safety and environmental consciousness, our panels are lead-free and exceptionally durable.
Experience the transformative power of St. Thérèse's presence through our exquisite church stained glass. Elevate your sacred space with this luminous masterpiece today.

Order Any Shape