Saint Paul Panel #15033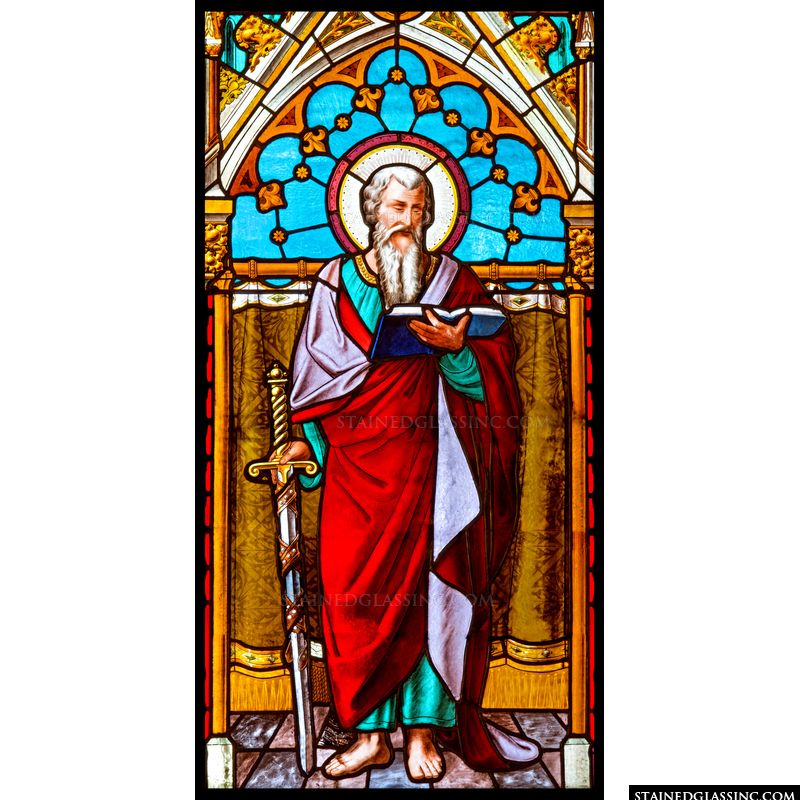 Invite the radiant spirit of St. Paul into your sacred space with this exquisite stained glass masterpiece. Every detail is meticulously crafted to capture the essence of this revered apostle. St. Paul, known for his unyielding faith and tireless missionary journeys, is depicted in a moment of contemplation, scripture in one hand and a sword in the other, symbolizing his dual role as a preacher and defender of the faith.
As Acts 9:15 proclaims, "This man is my chosen instrument to proclaim my name to the Gentiles and their kings and to the people of Israel." The vibrant colors and intricate brushwork breathe life into St. Paul's spiritual fervor, providing a powerful visual testament to his enduring legacy.
Enhancing Your Sacred Space: Whether for new construction or existing structures, our stained glass panels seamlessly integrate, tailored to complement any window size or shape.
Crafted to Your Vision: Customization knows no bounds with us. We're dedicated to manifesting your unique vision, be it a specific dedication, cherished verse, or a beloved name. Our panels are not only exquisite but also budget-friendly, ensuring stained glass splendor is accessible to all.
Affordable Splendor: Elevate your sacred space with affordable splendor. Our stained glass panels artfully combine budget-friendly options with captivating beauty, enabling you to embellish your church without financial constraints.
Inspiration and Comfort: Beyond aesthetics, our panels serve practical purposes. They block drafts, reduce AC and heating requirements, and effectively shield against 99.9% of harmful UV rays.
Safety and Longevity: Crafted to be lead-free and nearly unbreakable, our stained glass panels prioritize safety and longevity. The portrayal of Jesus' sacrifice will continue to inspire and uplift for generations to come.
Enrich your worship space with the inspirational presence of St. Paul. Contact us today to bring this stunning stained glass artwork to life in your sacred sanctuary.

Order Any Shape