Christ and the Saints Panel #14582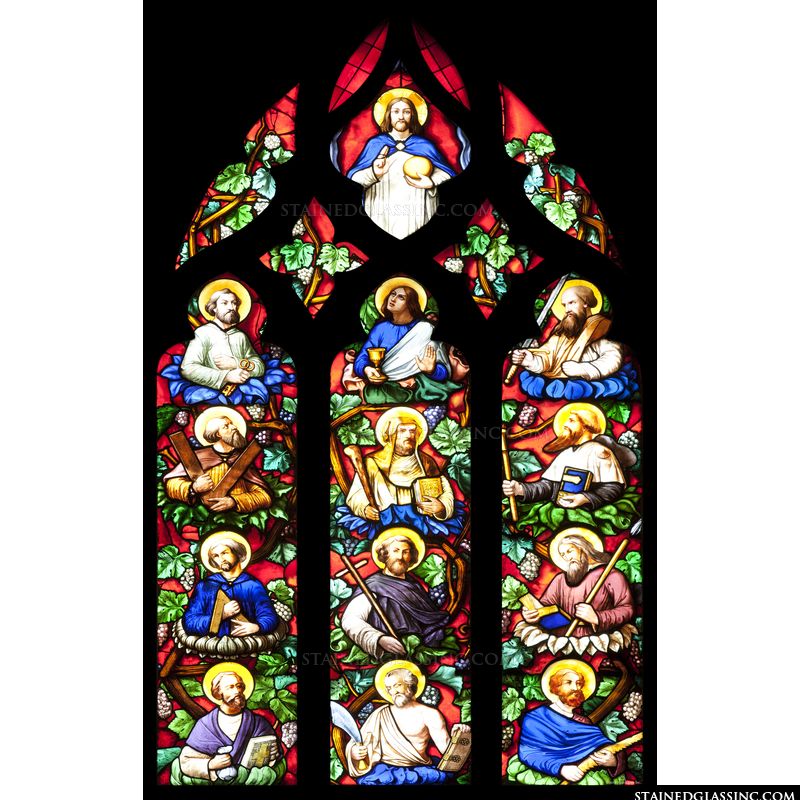 Window features Jesus with the 12 Apostles, Peter, John, James, Andrew, Philip, Thomas, Bartholomew, Matthew, James son of Alphaeus, Simon the Zealot, Matthias
Elevate Your Church's Spiritual Presence with "Jesus and the 12 Apostles" Stained Glass:
Imagine your congregation being enveloped in the divine presence of Jesus and His 12 Apostles through our exquisite polymer stained glass masterpiece. This artwork captures the sacred communion between Christ and His chosen disciples, radiating with the essence of faith, unity, and the profound mission of spreading the Gospel.
As stewards of sacred spaces, we recognize the transformative role of art in nurturing spiritual connections. Allow us to guide you through this inspirational journey:
Customized Communion: Just as the relationship between Jesus and His Apostles was unique, so should your sacred art be. Our collaborative design process ensures that the stained glass seamlessly integrates with your church's architectural identity, allowing you to convey this sacred narrative with authenticity.
Practical Beauty: Beyond its visual splendor, our stained glass offers practical benefits. It insulates against drafts, reduces energy consumption, and provides protection by blocking 99.9% of harmful UV rays. This enhances comfort and leads to significant energy savings.
Unwavering Durability: Safeguarding the longevity of your sacred art is paramount. Our lead-free, nearly unbreakable panels ensure that the sacred communion between Jesus and His Apostles endures, preserving the sanctity of your church.
This is not merely an investment; it's an opportunity to create a sacred space where spirituality and artistry intertwine, inviting contemplation, and inspiration. "Jesus and the 12 Apostles" Stained Glass will serve as a powerful reminder of the transformative mission of faith, enriching your congregation's spiritual journey.
Commence this transformative journey with us today. Contact us to receive full-color proofs for approval, allowing you to witness firsthand how this inspiring artwork will elevate your church's spiritual atmosphere.
A religious window like this would make a good addition to a house of worship or a hospital chapel.
Need help paying for church stained glass? See our fundraising guide for effective solutions to any financial hurdle your church may be facing.

Order Any Shape