Christ Arisen Panel #15336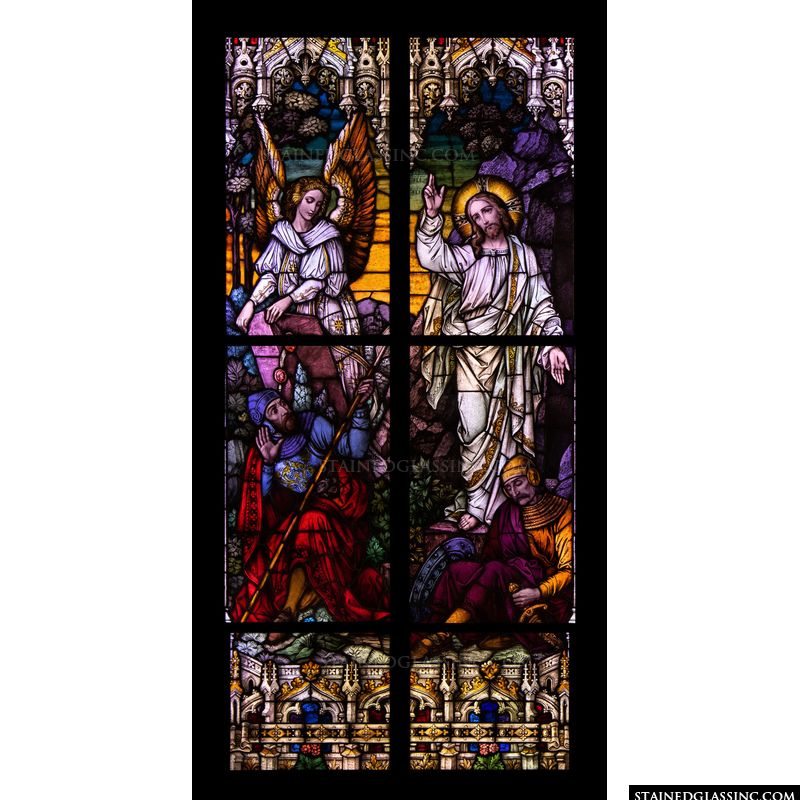 The portrayal of "Christ Arises from Tomb with Angel and Sleeping Guards" is a testament to artistry and Christian tradition. It symbolizes the triumphant resurrection of Jesus, a pivotal moment in Christianity. As Christ emerges from the tomb, the angel serves as a divine messenger of hope and salvation. The sleeping guards are a poignant reminder of the miracle that occurred while they were unaware.
This scene resonates with the words of Jesus: "I am the resurrection and the life. The one who believes in me will live, even though they die" (John 11:25). Our stained glass masterpiece beautifully captures the profound significance of this biblical event.
Immerse your space in the timeless beauty of our custom stained glass windows for sale, where artistic craftsmanship seamlessly merges with practicality. These exquisite stained glass panels can be customized to any size or shape, effortlessly fitting as window inserts, hanging panels, backlit light boxes, skylights, or door inserts. Meticulously crafted, our panels are lead-free and designed to block 99% of harmful UV light, safeguarding your interior and your well-being.
Beyond their aesthetic appeal, our stained glass panels offer tangible benefits. By effectively blocking drafts, they contribute to a cozier environment in winter and maintain a comfortable coolness in summer. Installation is straightforward, and their durability surpasses that of ordinary stained glass, making them virtually unbreakable.
Whether for a church, chapel, or residence, our custom polymer stained glass panels provide a timeless addition to your space. If you have questions or seek customization options, please don't hesitate to contact us. Let us help you infuse your surroundings with the enduring beauty of stained glass art.

Order Any Shape