---
Beautiful stained glass artwork for your sidelight windows.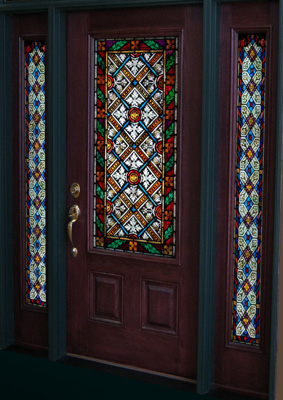 Stained Glass Sidelights
A stained glass sidelight window is a tall, narrow window that borders each side of a main doorway. Sidelights can be used for additional interior applications as well. Sidelight windows most noticeably increase the size of a doorway entrance, especially when viewed from the outside. Sidelight windows can come in a variety of styles and sizes. Some sidelights measure the full length of a door, whereas others only partially cover the door. We will custom design your sidelight window to suit your needs for single or multiple panes of stained glass. Our stained glass not only adds that special touch of elegance to any setting, but also provides the extra benefit of privacy. Along with transom windows, stained glass sidelight windows can increase the focal point and visual importance of your churches main entrance.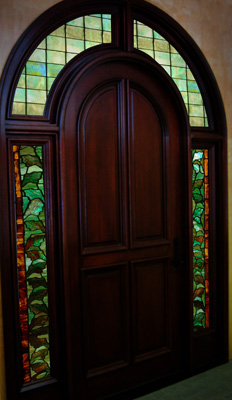 Benefits of Stained Glass Inc. Sidelights
Our stained glass is ideal for high impact areas such as sidelight windows because it is 140 times stronger than ordinary stained glass
They are safe and lead free
We will customize sidelight windows to meet your specifications
Simple to install
All of our windows are handcrafted in the United States
Give Us A Call Today!
Not sure what style to choose? Call us! We are here to help.